COMMERCIAL PROPERTY SERVICES offers over thirty five years experience in the management of commercial real estate investments including a regional mall, community and strip centers, mixed use projects, office and industrial properties. Our innovation and painstaking attention to detail set us apart from our competition, as does our uncompromizing commitment to maximizing cash flow, enhancing property values, creating a successful environment for tenants and a dynamic, community specific, flavor and ambience.
Property and Asset Management
Brokerage | Leasing, Acquisitions, Sales
Landscape Maintenance
Property Redevelopment and Repositioning
Consulting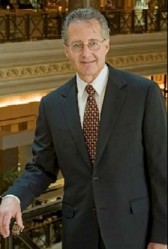 Brad N. Clark, CSM
Principal | Broker | Landscape Contractor
Specializing in Shopping Center Leasing and Management
Biography
Brad Clark is a 40-year real estate veteran specializing in property management, landlord and tenant representation, as well as, shopping center development.
Affiliations and Education
Clark has a Business Degree in Management with an emphasis on Finance and Marketing. He is a seasoned member of the International Council of Shopping Centers (ICSC) where he has earned his Senior Certified Shopping Center Manager (SCSM) designation. Brad is a licensed Real Estate Broker in the State of California. He is also a licensed California Landscape Contractor.
Leasing and Management Qualifications
Upon earning his business degree, Brad was hired by SUMMA CORPORATION (Howard Hughes) as the Sales Manager and later the Assistant Hotel Manager of the Frontier Hotel, Las Vegas, NV (with responsibilities including all physical operations of the Hotel). After several years in hotel management, he entered the field of shopping center management and since that time has managed, leased and redeveloped numerous retail properties ranging in size from strip centers, community centers and a regional mall. These properties include:
The North Ranch Mall (200,000 square foot mixed use shopping center) in Westlake Village, CA
Point Loma Plaza (215,000 square foot shopping center) in San Diego, CA
The Layton Hills Mall (500,000 square foot regional mall) in Layton, UT
Uptown Plaza (190,000 square foot shopping center) in Phoenix, AZ
Brad has also managed and leased numerous community and neighborhood shopping centers, office and industrial buildings
In 1989 Brad founded Clark Commercial; later named COMMERCIAL PROPERTY SERVICES, a San Diego based commercial property management and brokerage firm, as well as, Exclusive Real Estate, a residential brokerage company. COMMERCIAL PROPERTY SERVICES also provides full service commercial landscape maintenance services for numerous retail and commercial properties throughout San Diego County. Recently Brad held the position of Vice President of 3rd Works Retail Development Services. Brad's responsibilities included project management of tenant coordination for several lifestyle center and mixed-use developments in Northern, Central and Southern California. COMMERCIAL PROPERTY SERVICES has also worked in a consulting capacity with Silverleaf Financial, a private equity firm focused on acquiring performing and non-performing 1st Deeds of Trust whole loans secured by commercial real estate. These assets included a high concentration of retail properties, but the managed portfolio included office and residental assets located across the continental United States. Services provided included asset management and oversight of all leasing activities. In this capacity Brad worked closely with borrowers in overseeing their management of the asset; receivers and property management companies; and worked closely with the Silverleaf team tasked with the management of real estate owned.
CalBRE Broker License No. 00877135
CSLB C-27 Contractor License No. 89609
TESTIMONIALS
Robert F. Welanetz, CSM, Vice President, Operations & Leasing | Pan Pacific Development
Pan Pacific Development engaged Brad Clark to manage Point Loma Plaza, a 215,000 square foot shopping center in San Diego. In all our dealings with Mr. Clark, we found him to be completely trustworthy, extremely diligent, as well as enthusiastic about his job. Brad has an outstanding work ethic as evidenced by his willingness to spend whatever time necessary to complete a task. He also takes an extraordinary amount of pride in his work.
Mark Staples, President | Silverleaf Financial
We retained the services of Brad Clark and his company COMMERCIAL PROPERTY SERVICES, as a consultant providing services related to asset management and oversight of leasing efforts. Brad brought a wealth of experience accumulated from over thirty ears in the management, leasing and repositioning of retail, office and other commercial properties. In this capacity, Brad worked closely with borrowers in overseeing their management of the asset during the workout process; brokers engaged to lease retail assets; receivers and property management companies; and worked closely with our team tasked with the management of real estate owned. Brad's services exceed our expectations and he excelled at every level. The level of experience and expertise that Brad Clark brought to the table was invaluable. Brad is highly self motivated, proactive and thorough. His communication skills are unmatched in a world where communications are paramount. Brad has proven to be highly trustworthy and extremely reliable.
George H. Codling, President | Amreal
Brad Clark has been employed as a leasing agent and property manager. His responsibilities included the management and promotion of a 200,000 square foot retail/office center. Brad's work has proved to be highly successful. His tenant relations program has helped to maintain the smaller tenants through a period of great turmoil. His professional manner has been a great asset with the City in obtaining zoning variances for new signing and tenant use. His leasing skills are unsurpassed in our organization, and coupled with his comprehensive and professional approach to tenant selection, our marketing program has excelled.